Last year was dominated by virtual experiences. As more countries roll out their recovery plans, brand marketers are collectively looking towards the end of digital-only activations. Could hybrid experiences be the new must-have format? Almost a third of our Brand Playbook audience say it's in their plans for this year.
There is a lot to unpack and understand when we talk about hybrid model events. The first question to ask is: should this experience be live-first, virtual-first, or true hybrid?
A live-first or virtual-first format focuses on the experience of the priority audience. True hybrid implies an equal value experience across both digital and live audiences, but it's not as simple as tacking a digital element onto a live event, or vice versa.
For planners, this means designing two different routes of delivery for one connected audience, each route optimized for its relative format but based around one common message or event objective. For brands, this means new opportunities for global reach, scaleable engagement, and hyper-personalised journeys.
Key to this is understanding shifts in content formats and engagement time for live and digital audiences. We know that four hours in front of a laptop screen is very different to four hours in a live plenary. In July's Brand Playbook event, we discussed this crucial shift more directly, learning that 16 minutes is the maximum time for a digital audience to engage in any one topic. Designing fluid, intersecting agendas with dedicated and regular breaks for both audience groups is important, however, the definitive difference between a true-hybrid event and two separate events is shared audience experiences.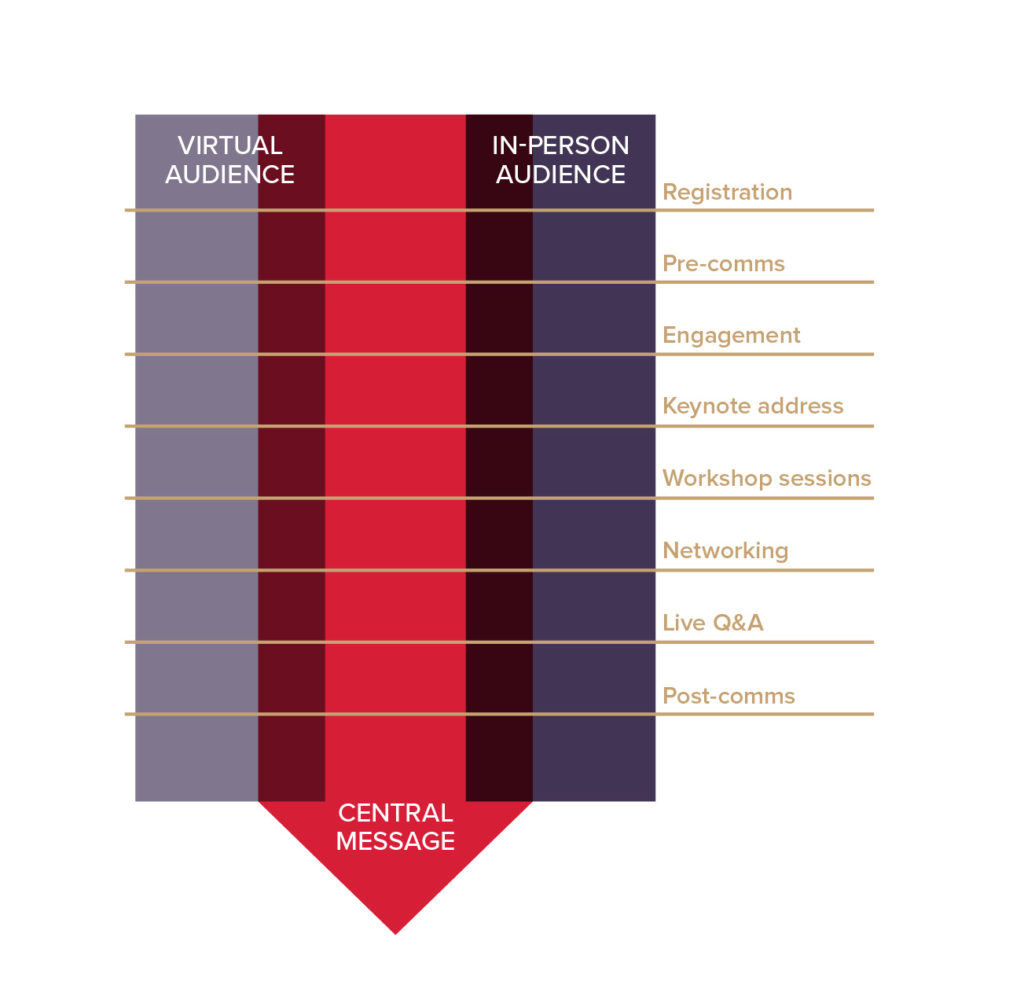 We call them 'bridging moments' when across all formats, audiences receive the same information at the same time with equal opportunity for interaction. For example, in a live opening address or during a keynote Q&A. It is about creating channels for information exchange between the audience groups. The collective audience should understand there are unique experiences taking place; however, this cannot be a barrier for engagement between them.
The key to building a sense of community is a central engagement hub, like a social media feed, where audiences can cross-pollinate conversation. A true hybrid experience needs to support networking opportunities between all audiences in both realms.
The Verdict
Hybrid can take the community and sensory engagement of live and mix it with the data and accessibility benefits of digital. The model's basic design puts the user experience first, and in doing so, cements its offering as a key consideration in your 2021 communications tool kit.
The format requires more planning time than ever, and more care in the early strategy and development work, but the outcome is truly exciting. Hybrid is here to stay.