HomeServe wanted to reignite cross-region networking in their global leadership team, and to deliver new thinking around the latest brand messaging: Good to Great, The HomeServe Way.
The obstacle? Engaging leaders from around the world during a pandemic, when travel was out of the question.
Our Approach
Inspired by the VAK learning and adoption theory, we designed a virtual leaders conference with visual, auditory and kinesthetic touchpoints to provoke audience collaboration. 
Uniting multiple teams in multiple regions doesn't just happen. We dug a little deeper to better understand the shared values across HomeServe teams. One key thread came back: the teams were fiercely competitive.
We launched our thinking around a sports theme, taking influence from global cityscapes and building the event identity from scratch. The custom branding was designed to show agility and movement, with the line drawings of cityscapes representative of the guests and leaders from across the world. The unique look and feel spilled into every facet of the experience: the centralised event website, the communications journey, the content, even the physical set. 
We unified the HomeServe audience further through gamified workshops, safe networking spaces and exceptional content. Our digital team developed a beautiful, custom-coded online world, including integrating a bespoke fitness challenge that saw guests travel 6500KM for charity.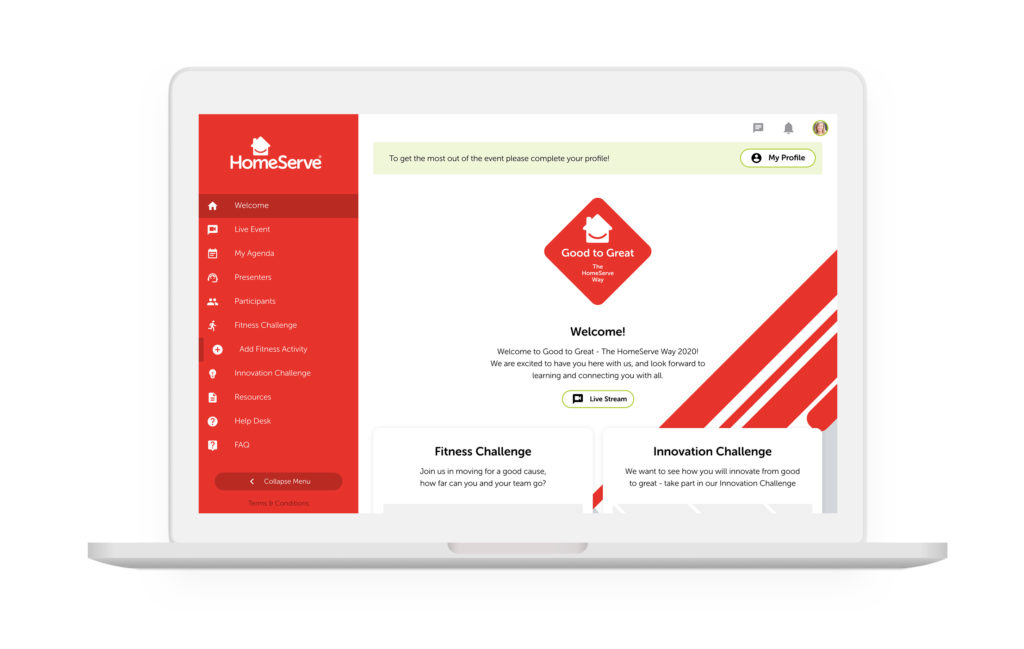 In detail
From a purpose-built studio, the US and UK co-hosts delivered strategic growth plans and key updates to the new Good to Great brand handbook. Live Q&A presenters were beamed in to enhance the conversational 'sports commentary' setting. We helped presenters deliver their best performance with dedicated speaker coaching sessions in the lead-up to the event.
We delivered the four-hour leaders conference without one PowerPoint presentation. Our Moving Image team worked closely with the client to create 20 international films to drive home new messaging and take the audience around the world. 
Huge thanks to Cheerful Twentyfirst for inspiring our first foray into virtual conferencing. The team were creative, reliable and delivered exactly what they promised – a joy to work with. Our event was a massive success and took our internal communications programme to a new level.

Group Communications and Investor Relations Director, HomeServe
Compelling video content and clever communications, interwoven with live hosts and dedicated workshops, motivated audience engagement on an untold scale. The networking features on KIT practically caught fire. More than 950 comments were recorded in the chat feed during the live event. The attendance adoption rate was 95%, from registration to live event.  
Guests amplified personal relationships and walked away with a newfound understanding of their role to play in the new Homeserve strategy. The KIT-hosted event site will remain live for six months post-event so that the community can revisit the learnings, the new connections, the (friendly) competitions and the fun.