International marketing network Stagwell challenged us to cement their brand position as a leading and innovative marketing group on a global stage. They wanted to bring together marketers, brand partners and their agencies for an experience beyond the expected —something totally different to the usual cabana-style beach activations at Lions.

Together, our teams galvanised sport, fandom and play to curate an experience that broke the typical networking mould.
Welcome to Sport Beach.
Our Approach
Sport is a universal language.
Play has a unique ability to disarm the audience.
Those were the guiding principles behind the strategy for Sport Beach.
A sand-to-stadium beach build, our 420 pax activation brought fans out of the stands and into the game itself to break down barriers and build long-lasting partnerships right there, on the court.
C-suite marketers could be found playing ball with NBA stars whilst A-list delegates worked out alongside NFL legends. On and off the court strangers became teammates, giving brands and athletes the opportunity to literally team up like never before.
The relaxed, open atmosphere inside Sport Beach made the experience even more enticing for a busy Lions audience, who were impressed with the back to back programming and highly influential speakers across the week.
Speakers included; former NBA player and household name Carmelo Anthony, former tennis star Maria Sharapova, former NFL player Brandon Marshall, former WNBA star Sue Bird, flag football star Diana Flores, ex-England Captain and football pundit Alan Shearer, Saquon Barkley running back for the New York Giants, and world-renowned filmmaker Spike Lee.
The concept of play turned traditional networking and connection on its head. From industry-driving discussions, to private sport lessons and open-court sessions, marketers could relax, play, connect, celebrate and do business under one roof.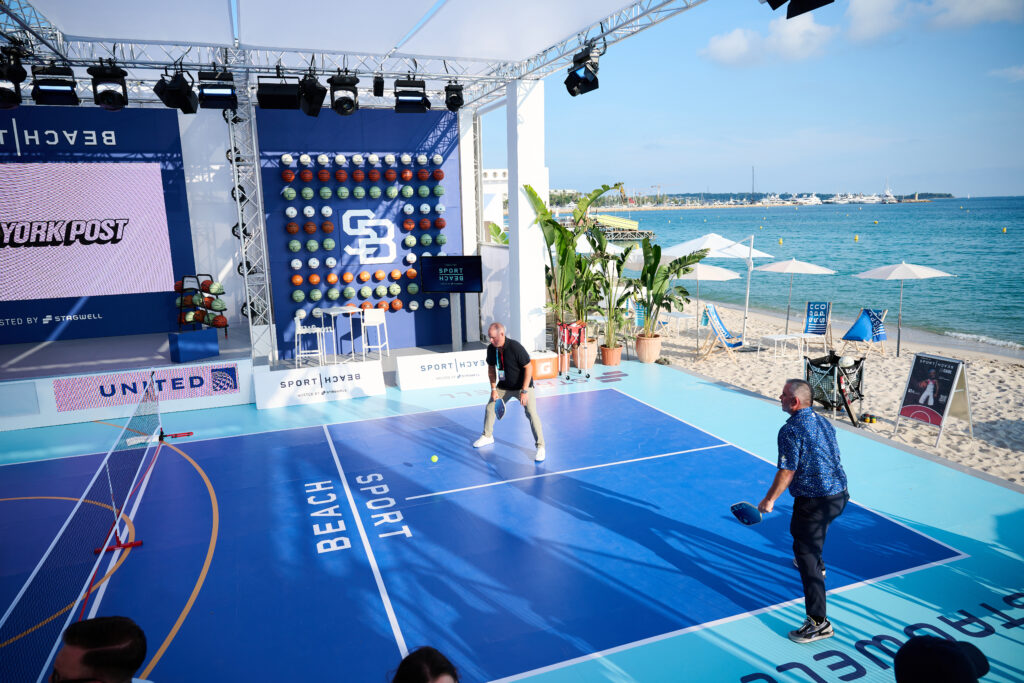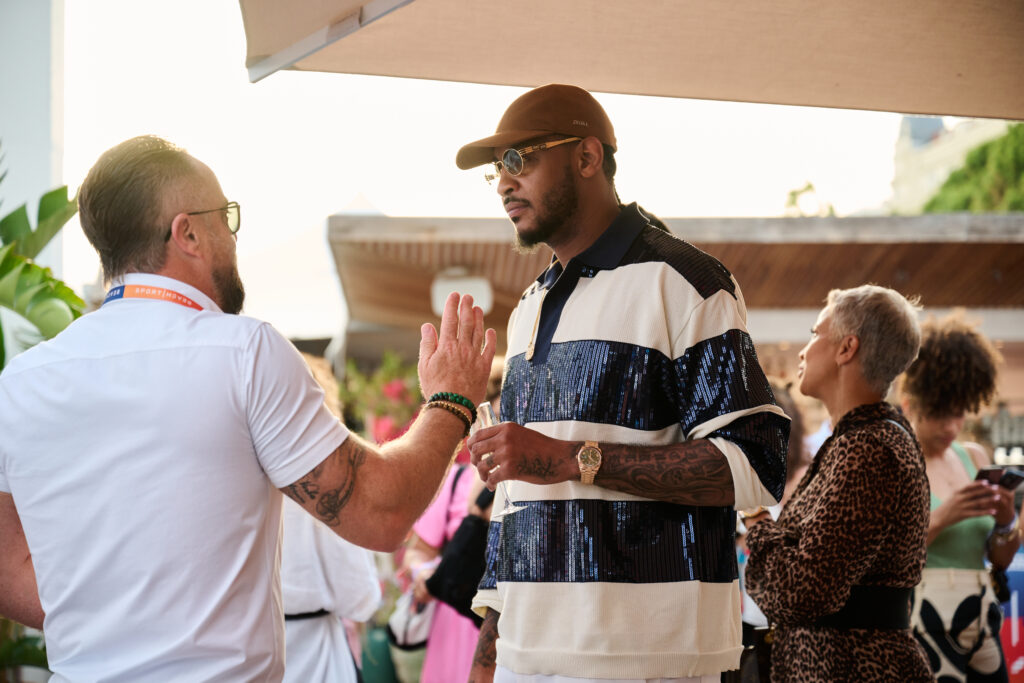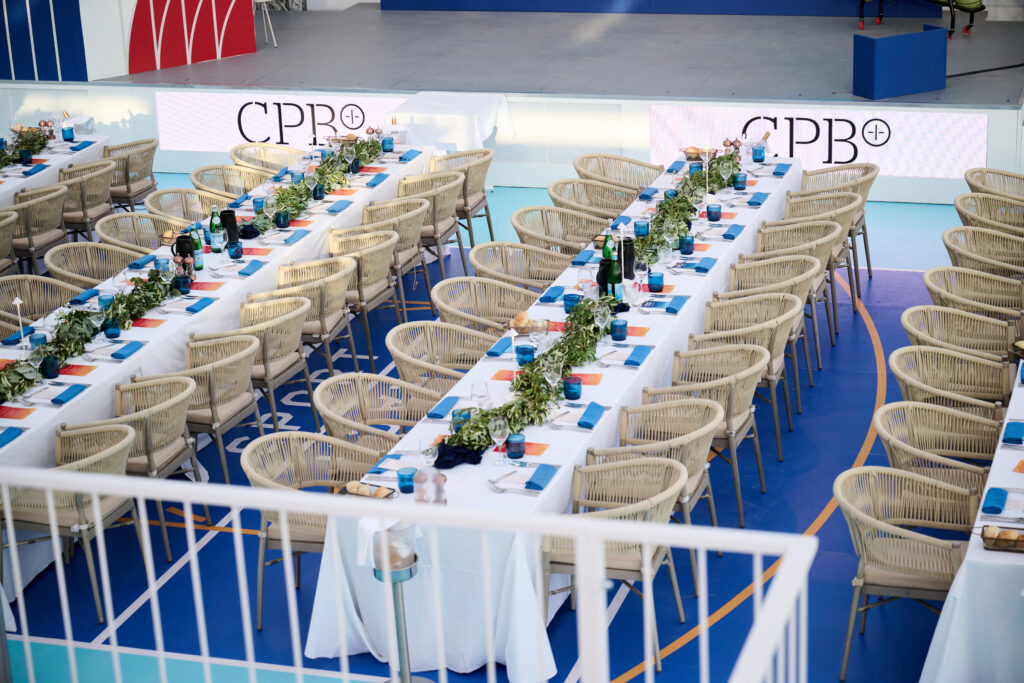 Building on moving sand is a challenge and for Sport Beach to be effective, we knew the design needed to have an emphasis on realism. Our creative team took inspiration from historical meeting places in Greek and Roman architecture to sketch the stadium to life.
The space was versatile to keep up with programming. Multiple areas could facilitate different needs, with a built in bar, press wall, cafe, VIP networking deck and content studio all wrapped into the stadium. Across the week, Sport Beach transformed from day, to play, to night. VIP guests enjoyed dinner on the court, joined by the sports stars they'd played alongside earlier that day.
The design also included two private meeting rooms for small-scale conversations, with a further 16 networking tables ensuring plenty of opportunities for those all-important Cannes connections. Inside the stands, our rooftop VIP deck allowed us to create a space for intimate, high-level conversations over breakfast every morning. From the way graphic markings were applied, down to considering the bounce of the balls on centre court, there was a true sense of permanence to the structure.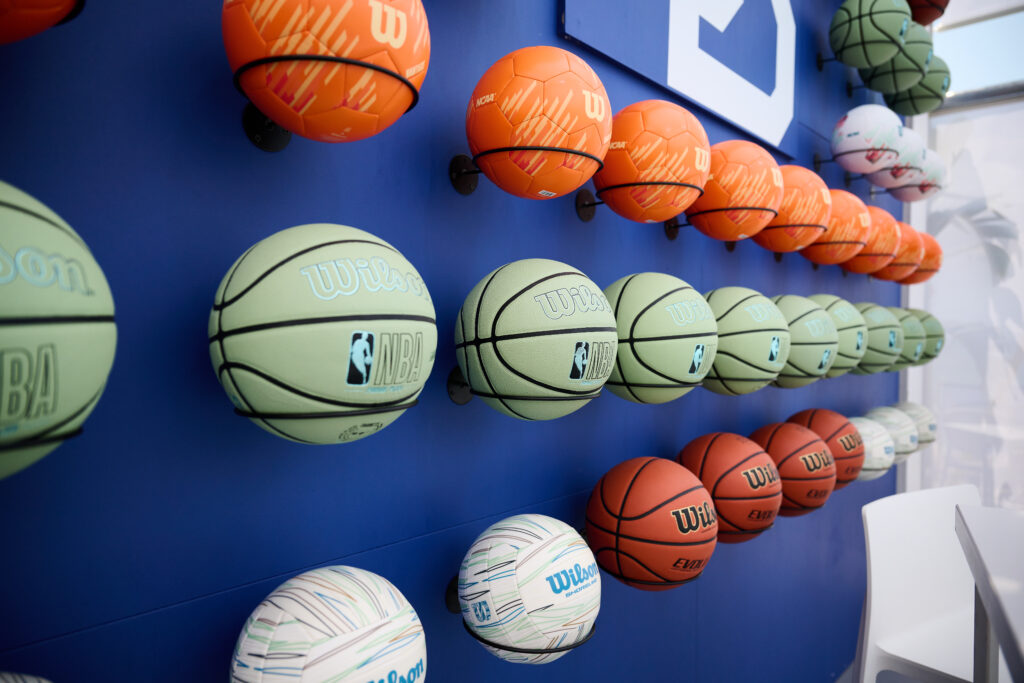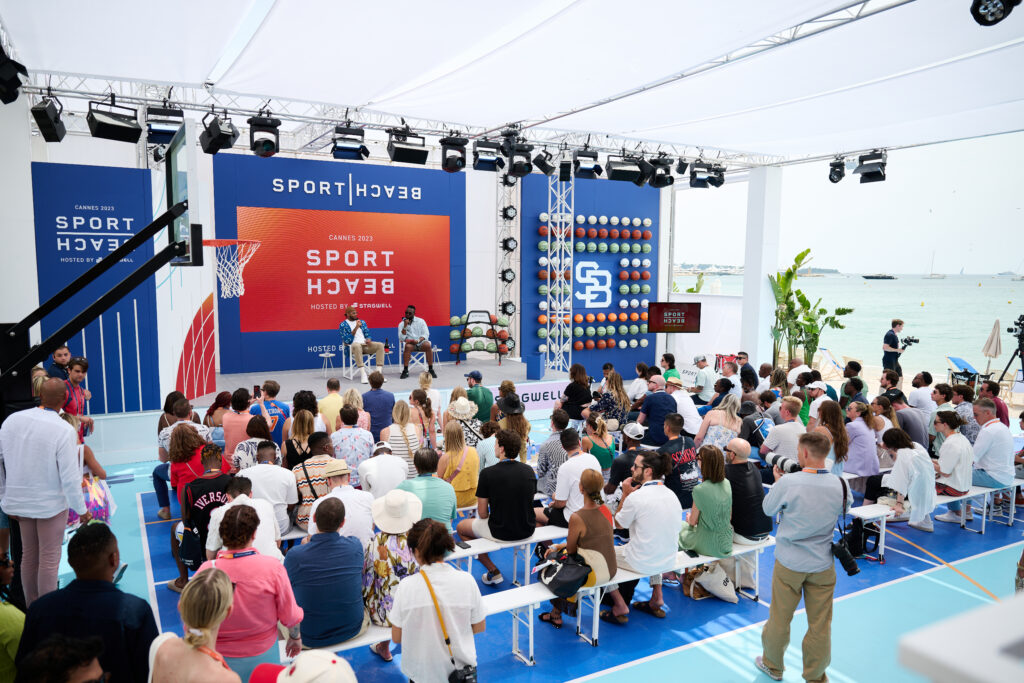 Impact
How often do you do business with someone, and then shoot a few hoops together?
Daily 'open-play' sessions encouraged people of all levels and abilities to pick up a Wilson, or challenge a new friend to a game of PickleBall. From golf to beach football and back again, the daily two hour open play slot was so popular it had to be extended to meet demand. We even created an eSports nook for the gaming fans —play extends beyond a court!
The ripple effects of a different kind of experience saw an unprecedented level of traffic on the registration site, with the content sessions oversubscribed all week.

Over 5,000 attendees experienced the activation first-hand, whilst onlookers lined up outside the beach to try and catch a sneak peak. The stadium became the destination at Lions 2023; a total slam dunk for Stagwell and one of our most successful brand experiences to date.
—1 in 3 Cannes Lions delegates attended Sport Beach
—38 international, influential sporting icons featured at Sport Beach
—200+ on-site meetings
—100 mainstage panelists
—140 content studio interviews
—416,803,466+ earned media impressions
—200+ meetings on site
—17k+ visits to the splash page
—3rd most searched story of the week, behind Spotify's two headline concerts.
'Sport Beach exceeded expectations and the general consensus is that we 'won' Cannes. In many ways, that is down to Cheerful Twentyfirst.'
—Chief Brand and Communications Officer, Stagwell.
'Good vibes, good people, good wine.'
—Carmelo Anthony on Instagram.